Calling all Hull twitterati!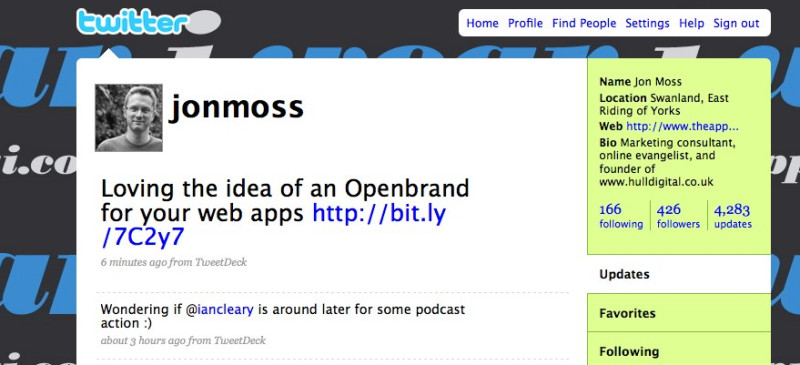 twitter has been THE success story in 2008 when it comes to online applications and explosive growth, and we're sure that this is going to continue in 2009 (twitter may even get their business model sorted out!).

Personally, I've used twitter since the 21st November 2006, so I guess that makes me an early adopter! How do I know this? Just head on over to myfirstweet and it will tell you (and no need for giving up your password either). By the way, you can follow me here, but my username is jonmoss now and not mossman 🙂
From reporting of the terrible Mumbai attacks, to the Hudson river plan crash to the rise of the celebrity on twitter, it is getting a whole load of media coverage. There is wealth of information about twitter and how to use it for this, that and the other, how to gain a thousand followers, how to leverage it for marketing, and many, many more strategies and do's and dont's. I use twitter for a number of reasons:
It's fun
It connects me to people who share the same interests
It allows me to ask questions
It is starting to function as a very personal search engine, or recommendation engine
It is a very good news source
It allows me to promote my own content
It allows me to share other great content
It allows communication within an organisation
And the list goes on! I've seen a number of friends jump aboard the twitter train recently and a few don't get it and leave very quickly. I would always persevere, use twitter search to find like-minded people or friends and then just jump in. Simple. Don't be shy, just do it!
The way people 'tweet' is also a hotly debated topic and techcrunch have just blogged about the most popular ways / applications. I went from the web, to twhirl to tweetdeck, which is IMHO, the best way to tweet full stop. You then also have the subject of mobile tweeting, and the iPhone has an array of apps that can help you here, from twitterific to tweetie (my fave).
So, a few questions for you all:
Do you tweet?!
What is your twittername? (It would be good to get a list of all the Hull Diggerati's twitter names!)
What do you use it for?
And lastly, how do you tweet?
Fire away in the comments!