Creative Workspaces available at the Fruit Market in Hull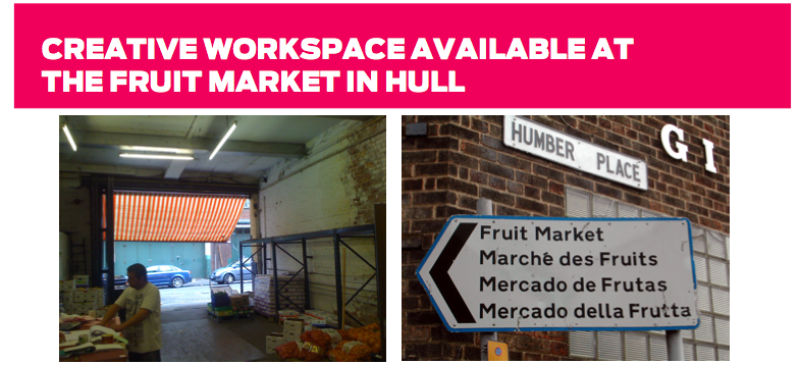 We're delighted to spread the word about an exciting initiative and event which is coming up shortly.
The purpose of the event is to assess the level of potential demand from local businesses and highlight the opportunities for meanwhile uses such as studios, exhibition space and workspace following the relocation of the Wholesale Fruit Market to Priory Park on the outskirts of the city later this year.
You are invited to attend a briefing session about opportunities for creative and media businesses at the Fruit Market, Hull to be held at 62-63 Humber Street (Hull Fruit Market) from 5.30 – 7.30 pm on Thursday 24th September.
Toby Hyam from Yorkshire based Creative Space Management has been commissioned to help Hull Forward to explore the reuse of these properties as quickly as possible pending the long term regeneration of the area. Toby and his colleague Paul Fallon will facilitate the event on the 24th September, providing information about the opportunity and how its supports the delivery of the long term plans for the Fruit Market.
Hull Forward is working closely with Hull City Council and a range of key public and private sector partners to regenerate the area. The partners involved have identified the potential for artists, creative business and social enterprises to get involved and be a major part of the regeneration proposals.
If you are interested in the Fruit Market, either as a location for your business, as a place to try out a new business idea or retail concept or to experiment with performance or installations (storage and passive uses will not be encouraged), please contact Liz King to register your interest and to obtain a place at the event. Email: liz.king@hullforward.co.uk Tel: 01482 387420.
Here at Hull Digital, we fully support this project. In many cities around the country, there are thriving, successful quarters where the new media and creative industries congregate. It provides a rich crossover of working opportunities, a vibrant atmosphere, as well as attracting businesses like coffee shops and restaurants / cafes.