Current Web Buzzwords and is Hull a Web 2.0 City?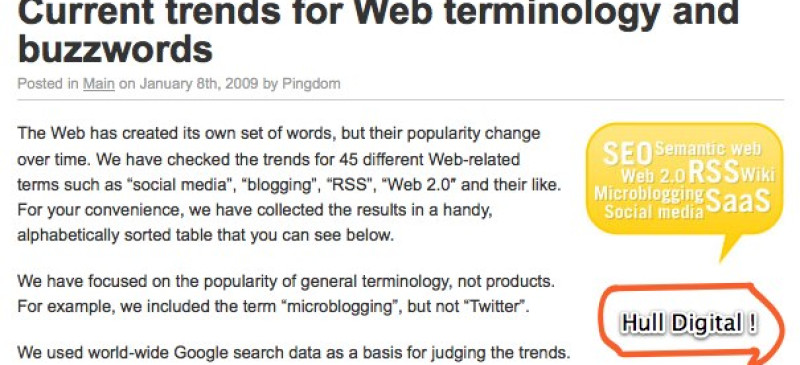 The term "Web 2.0" describes the changing trends in the use of World Wide Web technology and web design that aim to enhance creativity, communications, secure information sharing, collaboration and functionality of the web. Web 2.0 concepts have led to the development and evolution of web culture communities and hosted services, such as social-networking sites, video sharing sites, wikis, blogs, and folksonomies. The term first became notable after the O'Reilly Media Web 2.0 conference in 2004.
Buzz words and Terminology for the Web
2009 is going to be another vintage year for the development of the web, there is no question. We are VERY excited about the development of the digital community in Hull, but also, what is happening online around the world. This leads us to consider, is Hull a Web 2.0 city? Firstly, lets look at the current state of play….
The title of the post may be a little outdated already though. Royal Pingdom has a very interesting post about the current trends for web terminology and buzzwords. A few of the key findings from their Google search data analysis are:
"Web 2.0" peaked in 2007 and has been decreasing in 2008.
The ever-popular "cloud computing" actually dropped sharply late in 2008 after having been increasing rapidly since late 2007.
While the interest for "blogging" hasn't changed much over the last couple of years, "microblogging" has seen a rapid rise since early 2007 (presumably due to Twitter).
"Blogger" has been increasing four years straight.
"Ecommerce" is decreasing.
"RSS" is decreasing.
"Affiliate program" saw a sharp increase during the second half of 2008.
So it looks like Web 2.0 is used less frequently now…. although Social Media, Social Network, and Social Networking are seeing increases. Have a look at the article and let us know your thoughts in comments.
Hull and 'Web 2.0' – do they go together?
We're really interested to highlight and celebrate any great examples that are alive and kicking in the city and locality, and we will be trying to find some in the future to showcase (as well as great examples of web sites). So, we need your help here. Do you have a great blog? Do you post actively on flickr? Have you set up a really useful wiki or is there a good example of an online community based here?
One idea we do have is to start a list of all these great places on the web on a separate part of the site, so people can come here and track down something that might be useful for them. So, get started and post your blog urls below!