Digital Britain Event Report (important news for South Yorkshire)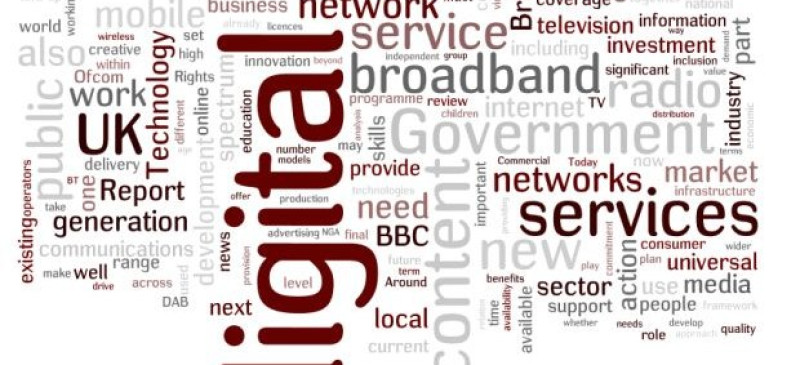 UPDATE >> The presentations from the meeting are now available on the Yorkshire Forward website in PDF format.
Click here and the relevant section is about half way down the page.
On Thursday afternoon, we headed over to the Yorkshire Forward Digital Britain Launch event, held at The Met Hotel in Leeds. There was an excellent turn out, with people from all manner of creative and digital industries, including a number of Hull Digital members.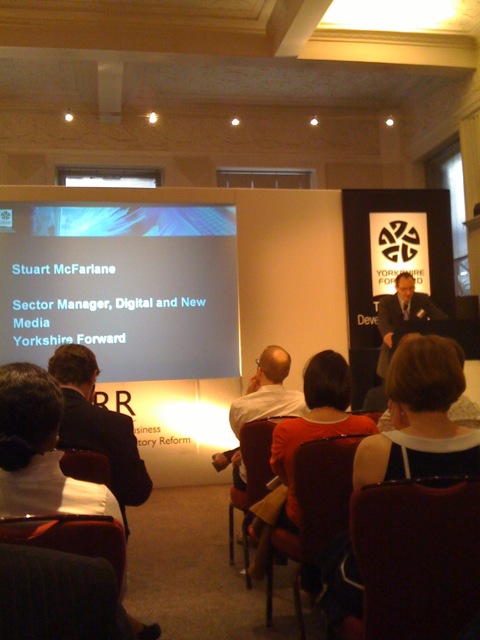 After an introduction from Stuart MacFarlane, Sector Manager, Digital and New Media, Yorkshire Forward, he introduced Samuel Sharp, the Director of the Digital Britain report who has worked alongside Lord Carter. He provided an overview of what has been done, the main areas of focus, and the report findings and thoughts so far. He did seem to gloss over the much-maligned 2mb broadband target, although made it very clear that this was more of a "floor" and not a ceiling. This is far from clear in the report, and he did mention the initiatives on the US, Australia and Korea, but not giving them more than a passing few words. This is worrying, as if they can do it, so should we.
Robert Ling, the Business Improvement Manager from YF then gave an excellent presentation about what was happening in the local region, and this actually proved more interesting to us than the UK-wide actual report. It was a real eye opener to see that there was plenty happening in the Yorkshire region, and all of it, very, very promising.
Big News for South Yorkshire:
SOUTH YORKSHIRE PIONEERS 'SUPER-FAST
BROADBAND' WITH MULTIMILLION POUND PROJECT
Following the Government's 2009 budget statement to confirm approval for Digital
Region, Digital Region Ltd today announces the roll-out of 'Super-fast Broadband'
across South Yorkshire, putting the South Yorkshire region at the forefront of the digital
communications agenda and marking a significant change in communications
technology for Barnsley, Doncaster, Rotherham and Sheffield.
This is stunning news for South Yorkshire, and the actual press release is available here > click.
'Super-fast Broadband' will provide a high-speed, open-access infrastructure, offering
25mb or above of guaranteed bandwidth and quality of service to the majority of homes
and businesses in South Yorkshire, reaching 1.2 million people. The provision of this
level of broadband service will transform the region, creating inward economic and social
investment to bridge the growing digital divide.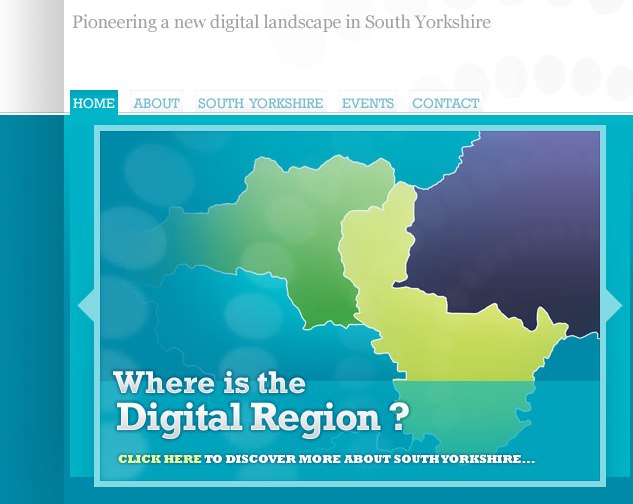 The approval of the Digital Region has been critical to this success, and Robert alluded to the 4 years of work which have enabled them to get this success. What is the "Digital Region though"?
The project has the potential to become the largest open-access broadband infrastructure platform in the world and will enable a multitude of advanced applications at home, in business and across the public sector, transforming communications, entertainment and business activities across the region.

DRL is wholly owned by Yorkshire Forward and the four local authorities of South Yorkshire. Following a full European Union procurement exercise, Thales Transport and Security Limited (Thales) has been appointed to deliver and manage the fibre-optic cable infrastructure on behalf of DRL. Thales leads a consortium that includes Alcatel-Lucent and KCOM.

The DRL Network is offering 25mb+ of bandwidth which is both guaranteed and can be delivered with a range definable Quality of Service attributes. In simple terms, this means the end user gets 'what they pay for'; if the end user requires 10mb they receive a guaranteed 10mb; if they want 5mb or 25mb this is guaranteed. Some services require more than just high-speed connections: this is true of live entertainment such as sports, and critical services such as aspects of tele-medicine. The DRL Network can configure specific connections with Quality of Service attributes that allow these services to be delivered in a seamless way to the end consumer – so no stop-starting or picture-jitter for example when watching a live football match.
As well as this news, Robert also covered NYnet, a "Broadband Transformation for North Yorkshire".

What is NYnet?
NYnet is a public and private sector commercial venture created in order to provide a communications network that is capable of delivering multiple high quality services to citizens, business and public sector bodies. The lead role is taken by North Yorkshire County Council with support from Yorkshire Forward and Government Office Yorkshire and Humber. Our private sector technology partner is BT who will work with NYnet to deliver, monitor and maintain the network to the highest standards.
So, from a UK perspective, the Digital Britain report is on track, after the release of the Interim report, and they are receiving feedback. Having spoken to a number of people, it seems like the Yorkshire region has been the only region to hold an event to collate feedback, which is good for us, but poor overall.
What really stood out was the South Yorkshire success and Nynet. Leaving Hull, well and truly left in the middle of two areas who are accelerating away in terms of development and future vision. This was immediately clear to us, and has left many questions for the future. We cannot afford to be left behind and we must not be left behind.
Finally, here are two clips from the London Digital Britain Meeting:
On a lighter note, and not lost in it's irony, was the Wireless charges from the Met Hotel – good grief, they should be paying the digital infrastructure of the region!