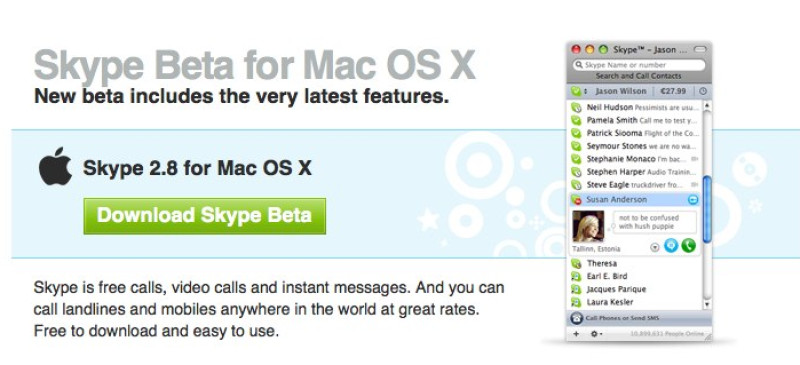 Skype is the most popular VOIP product around, and for good reason. It works, works well, offers great features and provides excellent value.
In fact, it is being relied upon for communications by more and more people, and businesses. Here at Hull Digital, we have used it today to speak with contacts in the US, both East Coast and West, Sweden and with local friends. And that is not an abnormal day by any stretch. We are not a BIG corporation though, but there are companies who are actually embracing using VOIP and products like Skype, not only for cost savings but also for productivity. Skype offers an excellent IM service too, and you can even use an iPhone application called fring to make Skype calls from your handset when on a WiFi network. Technology is leaping ahead at a speed we could not dream about a few years ago.
So, why did we mention Skype? 2 reasons – firstly Skype 2.8 for Mac Beta has been launched today and you can get it here. The big news is that it now supports screen sharing, not only the full screen, but also discrete windows, all chosen by you. Check out the excellent video below showing it in action from Emerging Tech Talk:
The second reason is that we would be interested to speak to any companies who ARE using VOIP within the business to get their thoughts on it, especially of you've thrown out your whole previous system and rely on it entirely. Just drop us a line in the comments and we will get in touch.