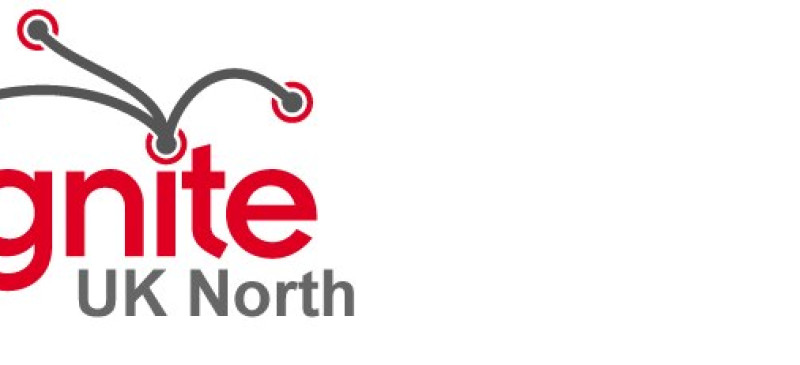 As a bit of homework for participating in the forthcoming Hull Digital Open Coffee Meet Up event (I hope you're going to be there!), and to show my support for local tech events, I decided to head over to Leeds and see for myself how the established ignite formula would work in Yorkshire, at the first ignite UK North meet up.
This is actually the first ignite meeting in the UK, and has the support of Tim O\'Reilly himself!
So, to the event… I lived in Leeds in the 1990's and so I found the venue quite easily. I hadn't realised that the BBC had vacated the building, but the Leeds Metropolitan University have turned Old Broadcasting House into a great space, accomodating co-working areas, excellent conference facilities and making excellent use of the location of the building, Old Broadcasting House is sited opposite and between the University of Leeds and Leeds Metropolitan University campuses (almost facing The Fenton pub, a landmark establishment for many students in Leeds).
I arrived a little after six, and already there was quite a crowd gathered in the reception area, enjoying the very generously provided refreshments, mingling, catching up with old friends and making new ones. It was a welcoming environment, buzzy but organised and with the registration table taking care to ensure that all attendees knew where everything was and distributing speaker itineraries it felt already like this was a high quality event. The event sponsor was nti, who seemed like a very together outfit and I shall keep them in mind for any Apple and Adobe training needs in future.
The format for the ignite meetings is pretty simple, ample opportunity to network and chat, and a series of 5 minute "Lightning" talks… There was a great roster of speakers and a few familiar faces such as Dom "The Hodge" Hodgson and Tom Scott provided informative but highly entertaining presentations (Dom talked about the future of search and Tom gave us his life in 20 graphs). The speakers covered a really diverse base from design sensibilities (Dean Vipond) to IT projects in Africa (Jeff Allen), from concurrency (Michael Sparks) to mental health (Kate Brown). If you've a new idea to get across, are looking for support or wish to raise awareness of a tech-related issue then I cannot think of a more appropriate forum for this.
The evening was very well put together and both Craig and Imran deserve special mention for their energy and enthusiasm. Brilliant hosts and both very nice guys. At the end of the evening they had even arranged an upstairs room at The Fenton for a celebratory drink, and all attendees were welcome.
In summary I would say that this is a cracking start to ignite in the UK, what a great opportunity to have this kick off in Leeds, and I can't wait until the next meeting!