Karoo – something is in the air!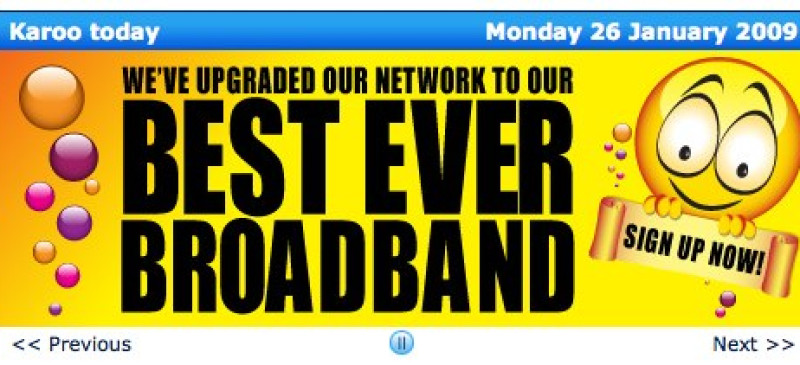 Karoo is the only viable broadband provider for many Hull Digital readers (folks that can get wireless or decent cellular broadband access are still in a very small minority I would say). Consequently there is a great deal of interest in the Karoo range of products and services, especially when we talk about faster broadband and fairer prices that reflect our needs. Many residents and businesses in the Hull and East Yorkshire area have voiced the desperate need for faster services and more flexibility in the offerings, even to see some evidence that we are actually getting a fair deal… unfortunately, if we're not getting good value then we're stuck with the service anyway. That makes us pretty frustrated and is bad for everyone that requires good Internet access.
It's nice therefore to be able to report that we're seeing what could be some very positive developments coming from the company, but I'm not sure that these are being widely communicated, (in particular to those customers that live outside of the city centre and are most likely to be some considerable distance from a KC exchange, experiencing the slowest and least reliable broadband connections).
So what's happening, and what does it all mean?
ADSL2+: Karoo have finally started to offer customers the chance to move from standard ADSL (Asymmetric Digital Subscriber Line) broadband to the faster and further reaching ADSL2+ specification. This improves the theoretical maximum speed for many customers from 8Mbps download up to a theoretical maximum speed of 24Mbps download, Karoo are claiming a maximum of 18Mbps download and 1Mbps upload speeds will be available and are highlighting possible restrictions on P2P (Peer to Peer services such as Bit Torrent) and Usenet (Internet newsgroups using NNTP – Network News Transport Protocol) traffic. Now, we talk about theoretical speeds here because to get this kind of performance you need to be pretty close to the local exchange and Karoo needs to manage to have very low contention on their service (contention is essentially the assumption that not everyone uses their broadband connection all of the time and the ISP applies a formula – an Erlang formula – to calculate an acceptable level of over-subscription to their service, ensuring that they spend less on connections out beyond their network, users will still get something approximating a reasonable service and the ISP can remain profitable and in business).
As with all things in life, this upgrade comes at a price. You will need to move your account onto the new Karoo ADSL2+ tariff and this will likely mean that you pay a different price going forward. For light and medium users this is undoubtably quite interesting as you'll get nice performance when you need it, and the possibility of a reduction in your monthly broadband costs. If you're more of a heavy user then you'll need to study the terms and conditions quite closely as there are guidelines about maximum data transfer per month that could actually reduce the usefulness of the service. This is definitely an upgrade where your mileage may vary. Caveat Emptor!
WiFi in Hull city centre: This is something that Jon and I have griped about since we first met, the lack of decent available WiFi in Hull. It's great in many major cities (and not so major towns and cities) to be able to grab a coffee at a Starbucks or an airport and get online. Great for business, great for grabbing an audiobook on a journey, great for "WTF" moments when you're lost and in need of information. Hull has remained a wasteland in this respect and I am delighted to see that Karoo are at long last doing something about it.
Now this is a baby-step, and I'm not quite sure what exactly their trial is designed to demonstrate, but Karoo have made public WiFi service available around the Queens Gardens area of the city centre.
I think that this is strange as hotspots are neither new technology or a new ISP business model. BT have done this for years and other providers like The Cloud and T-Mobile are very well established in many parts of the UK. The choice of location seems weird as well, I would have thought that somewhere with either a higher penetration of cafes and lifestyle-y places or somewhere further into the heart of the student or business communities would have delivered better results. Perhaps the trial is "designed" to show that there's no demand in Hull and so therefore no need to invest in a citywide WLAN (Wireless Local Area Network) infrastructure? I doubt that arguing for a significant East Yorkshire CAPEX budget is something that the incoming CEO is going to look kindly upon or get enthusiastic about.
It's very easy to get registered on the trial, visit your Karoo account homepage and enable the WiFi service through your browser, it doesn't cost anything so let's give it a go.
Don't abuse the service but show that there's healthy demand for WiFi service in the city. I cannot imagine that the lack of a public WLAN service is doing anything other than holding back Hull. We can't be ambivalent about this, take the kids to feed the ducks, get your WiFi enabled device connected and prove we want it!
Conclusions and wrap: It seems like Karoo is doing something, I'm just not quite sure what that something is. It's satisfying though to see some new products and services being announced, launched and experimented with. The ADSL2+ and the WiFi trial are both potentially services that are great for Karoo and great for us as customers, but something is fishy about that trial… I'm watching closely to see what the follow-through is from Karoo.
Hull is geographically a fabulous place, a gateway to the UK and positioned at the edge of some lovely surrounding areas (come on, work with me… I'm keeping it "glass half full" here 🙂 ). The city is within easy reach of historic locations such as Beverley and York that draw tourism, and boasts quite good air and sea routes to mainland Europe for passengers and freight, (good rail and road infrastructure is not quite there to reach other UK locations, we can't blame that on Karoo though).
Regenerating Hull requires a forward-looking communications company to take up the challenge of developing the network to be the best in the UK, making Hull the most attractive destination for businesses and consumers that want to live and work in a city that can support their aspirations. With such a small catchment area KC could be so so good at this, they very much need a strong and visionary leader to convince the shareholders that a long term plan is the way forward, and if Hull thrives then so will their investment. If KC would really go for it then the people of the city will get behind the company and we'll see a strong foundation built for a service-driven economy in East Yorkshire.
It's hard to believe but there is a lot of latent pride in KC, and the company was quite an engineering pioneer for most of it's history. Hull had the first all-digital telecom network in 1989 and the first video on demand service in 1999… way ahead of BT. We'd love to see KC once more at the cutting edge of communications technology. Every street corner should have a historic white phone-box with a brand-new 802.11n wireless access point at its heart!