Karoo Win Two Awards Shock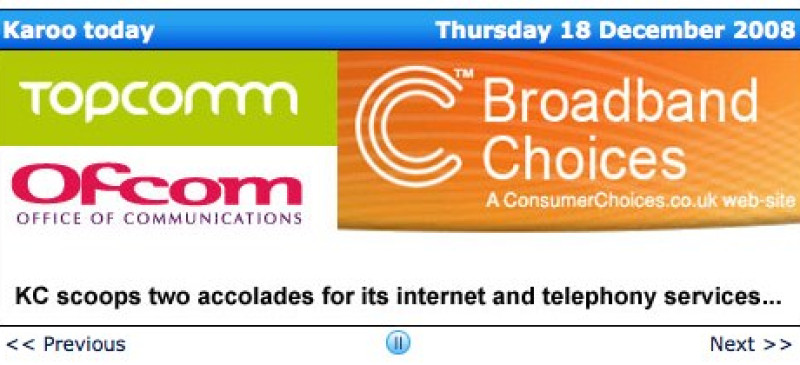 Karoo are Hull's one and only broadband provider, and, the truth be known, one of the region's biggest problems.
With no choice, and essentially a monopoly, the people of Hull, normal familes and web gurus, are stuck with this ISP, leadng to a vocal volume of dissent. Their 8mb service is far from 8mb, although it is not the only ISP with this advertising standards issue.
Most people would not mind paying £15 for a real 4mb service, but at £30 for the '8mb' package, it is clear that overcharging is an issue.
So, there are of negatives towards Karoo, but are they unfounded? A recent report has shown Karoo in rather a good light.
Everyone at KC is celebrating following the publication of two independent service comparisons. The results, one of which covers telephony and the other relates to broadband speed, place KC as one of the top performers in the industry.
Not only are Karoo placed at the top of the speed tables in the UK for October:
KC's Karoo broadband service has topped the speed league table of leading broadband comparison site BroadbandChoices.co.uk for the sixth time this year – making it the fastest broadband provider in the UK for October according to the Broadbandchoices website. It previously took the top spot in the tables in January, April, June, July and September this year.
But also for their telephony service:
Best provision of telephone services according to Ofcom

The company also ranked top of the tables for its direct residential service in Ofcom's Quality of Service scheme, TopComm, for the provision of lines within specific timescales, service restoration and bill accuracy.
From hull digital's perspective, it is not the telephony service which we have issue with. It is with the lack of choice, and also the nationwide practice of advertising misleading speeds:
Karoo (www.karoo.co.uk) was ranked the fastest service in their medium 8Mbps* category – the UK's most popular category – during October, with customers enjoying an average of 4.5 Mbps. Other companies in the list include O2 (4.0Mbps) and SKY (3.2Mbps).
Surely advertising the 'expected' speed is better for all? Under promise and overdeliver is the phrase which comes to mind. With the imminent investment from BT and Virgin, Karoo looks like it could be left behind. There IS an opportunity to really make a name for themselves with high speed web access. A small area, much less investment needed, great PR opportunities and get much needed business investment in the area.
What do you think? Is Karoo helping the region? Should they invest? Let us know your thoughts in the comments.