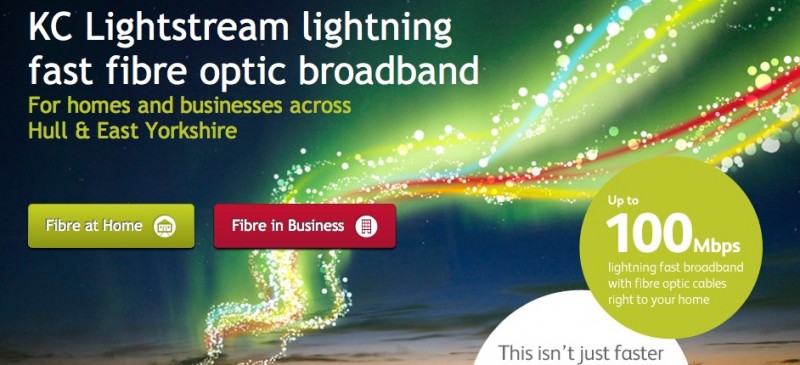 So, it's arrived. KC Lightstream is here and being totally honest, it looks amazing. How about up to 100Mbps?!
Kevin Walsh, the Chief Executive from KC announced:
Our fibre deployment is the start of something special that local people can feel proud of. At its heart it's an investment in the future of Hull and East Yorkshire, and, I believe, a catalyst for change that will help to transform the region's fortunes and improve local lives.

The Government has recognised that superfast broadband will play an important role in the UK's future economic success; helping to attract new businesses, stimulate the digital sector – a key driver of growth and wealth creation in regional economies – and helping councils and other public sector bodies to deliver services to residents more efficiently.
Kevin is a great ambassador for the region and passionately believes in the potential for the Lightstream service. Having talked to Kevin over the past three years or so, the Lightstream launch has been a firm focus for the company and the planning process has been a long and hard journey, culminating in the official launch today.
The headline figures are pretty amazing – upstream speeds up to 10Mbps and downstream up to 100Mbps. More than enough to satisfy speed freaks across the region. KC have looked at both the consumer and business areas, with various packages available.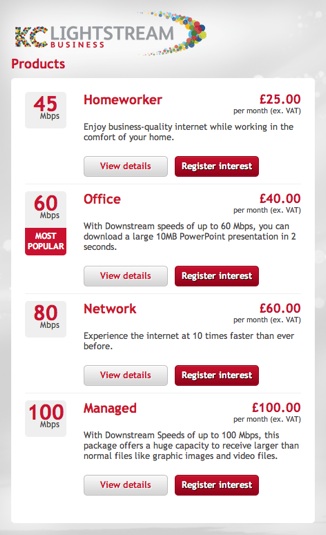 For business, the packages start as £25.00 per month and go up to £100 per month, with the speed ramping up and also the usage allowance.
One big question I had was around the difference between the Business service and the Consumer one… from what I gather this download speeds are the same but the services for businesses include bigger usage allowances and faster upload speeds which is fair enough. I'm sure there will be some overlap though…
There is a very thorough FAQ for the new business service here.
Certainly, something like the homeworker option looks terrific and a really good price too. For many of the Hull Digital community who are freelancers, developers and work from home, this kind of speed is going to be very welcome. Upload speeds of 5-10Mbps depending on package will be even more warmly received!
Moving onto the consumer offering, there are a number of different options. Bundles and stand alone packages, with the bundles being the best value. You need to pop in your postcode first of all to see if you will be able to get the Lightstream service in the coming weeks… If you are in the right area, the website shows the packages available. See below: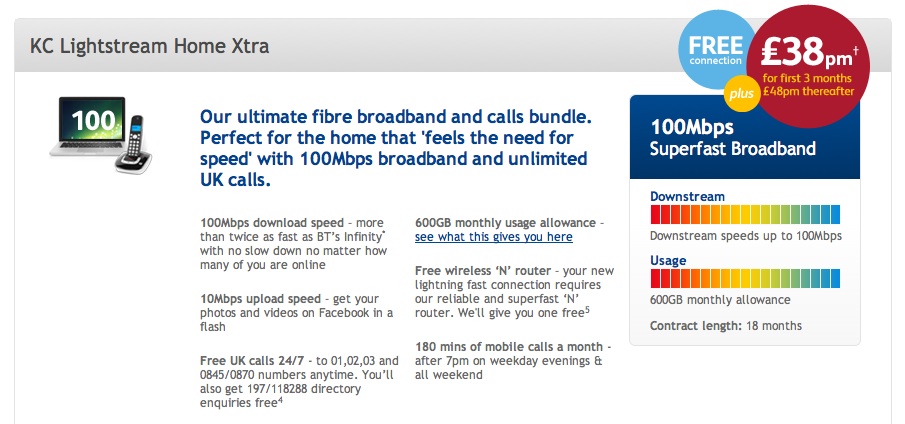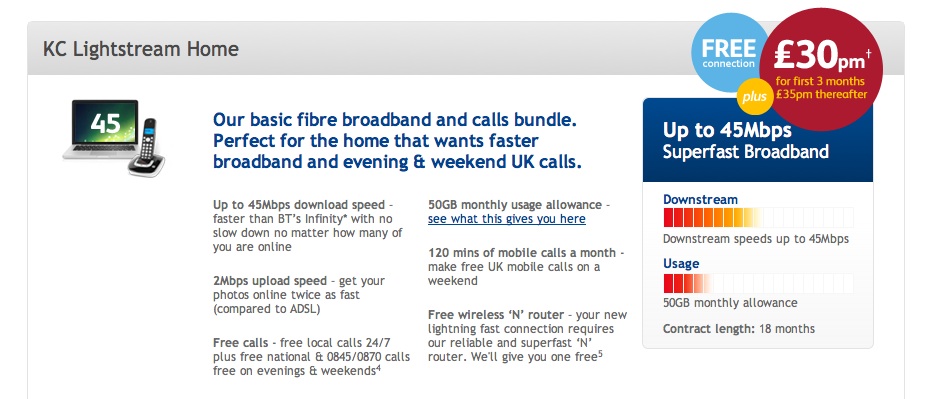 The 100Mbps package is available for some areas which have FTTH (Fibre To The Home). Some postcodes show the 80Mbps package as this won't be available and will be FTTC (Fibre To The Curb).
I've seen a few comments about the fact that it's not unlimited download, but anyone who is giving that as a negative, is in my opinion, looking to find something to complain about. A 500 GB monthly allowance is HUGE. I use the web daily. A lot. Now I'm not certain of my data usage, but it's no way near that. 500GB is very fair.
The big question – who can get Lightstream and when?
The people of the Grovehill area of Beverley will be the first to receive KC's lightning fast broadband service this year, with customer installations starting in two weeks' time on Monday 6thFebruary. Other installations in Beverley will include the Grange Way, Lockwood Road, Butt Lane, Old Manor Lawns, Lincoln Way, Poplars Way and Norwood areas.
Further fibre installations in 2012 are planned for the following areas (subject to detailed engineering surveys):
Priory Park business park in Hessle
Barnsley Street, Belmont Street and Buckingham Street off Holderness Road
A number of East Yorkshire villages including Skidby
Flats and apartments in areas including Hull city centre
Kingswood in the north of Hull
Parts of Greatfield estate in east Hull, as well as other areas of east Hull
Victoria Dock
Parts of Sutton-on-Hull
Parts of west Hull around Pickering Park
Overall, I am seriously impressed with Lightstream. They needed to do this, no question, but from the looks of things, we are going to have an amazing service in Hull, and at a very reasonable price. I've seen very few negative reactions from people, with the vast majority being very positive. The only thing to have really ticked me off is that I cannot have it yet! Now where's Kevin's number…
Main press release can be found here.