MeetUp Confirmed – Jan 31st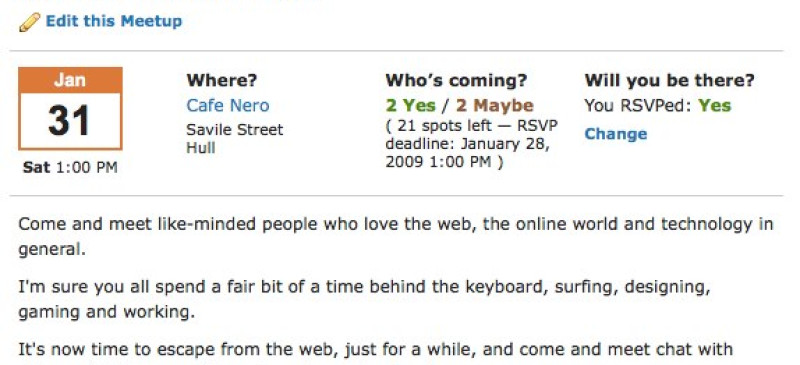 Good news – after quite a few people got in touch and said that there was a definite need for a Hull meetup of like minded people, we have set up the Hull Digital / Hull Open Coffee official MeetUp site here >>>> click.
Cafe Nero, Savile Street, Hull centre at 1pm.
We are aiming to have around 20 people get together for the first MeetUp and we will be looking to expand this in the coming months. Our aim is to have around 30 regular attendees by the end of the year, and we really need your help to make this happen!
You may be thinking is this for me… so please read on….
Hull Digital / Hull Open Coffee is all about meeting others interested in any aspect of the digital world, the online world and web technology.

Whether you are a developer, designer, VC, entrepeneur, a digital-lifestyle enthusiast or just love the web, we would like to have you along!

The group is especially looking for people involved locally with a web-based business, or perhaps work for an online agency, or use the web on a daily basis as part of their working day.
A little more info for you….
Who would like this MeetUp?

– Web designers
– Web developers
– Web Marketing Consultants
– Anyone who uses the web for business
– Social Media lovers
– Bloggers
– Technologists
– People who love Web-Apps
What will you get out of attending?

– Meet new like-minded people
– Have an opportunity to talk to people with similar interests
– Learn something new
– Express your opinion on anything digital
– Network for business opportunities
– Hear talks from experts
– Discuss new technologies
– Promote digital culture in the region
– Fathom out how we can get fibre to the home in Hull!
This kind of event becomes a success if it gets the right people, who make an effort and get together every month to discuss topics they are passionate about. At the moment the Hull Digital team are starting to put the word out, but we could really do with your help too. If you know anyone who might enjoy coffee and a chat about any of the topics above, please do give them this link:
http://www.meetup.com/Hull-Digital-Hull-Open-Coffee/
and encourage them to come along. We look forward to meeting you soon! 🙂