Microsoft Partner Apprenticeship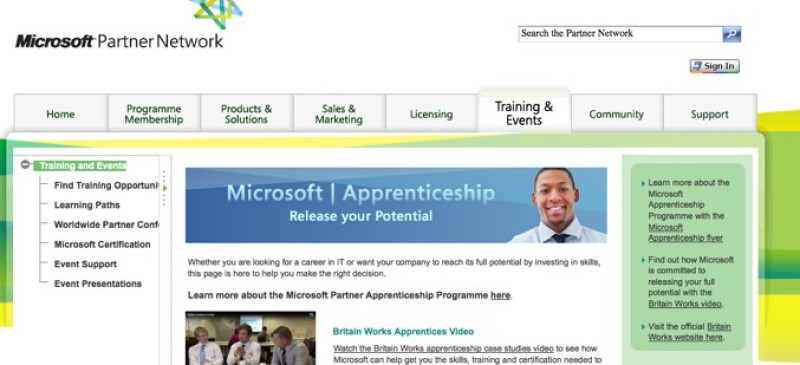 Digital 20/20 is a partnership initiative involving representatives of both the public and private sectors, with an Action Plan focused on helping everyone in the Region to acquire skills that will allow them to get more out of life and work in the digital age. It also addresses the specific IT and specialist skills needed for the region's emerging digital industries.
Digital 20/20 is working with e-Skills and Microsoft to make sure that companies in Yorkshire and Humber don't miss out on Microsoft's current push on IT Apprenticeships. Microsoft has developed a new IT Apprenticeship programme which is much more responsive to the needs of SMEs and, following a pilot in the West Midlands, is rolling it out across the country. Here at Hull Digital,we  want to make sure that businesses in our region hear about it.
So what is it all about?
The Microsoft Partner Apprenticeship was designed for and developed with Microsoft Partners to improve the capability of the partner network and add a stream of new ICT recruits, particularly for SMEs who have struggled to recruit appropriately trained staff or apprentices in the past due to perceived barriers to entry.
The concept focused on Partners clustering together in regional areas, allowing them to benefit from collective recruitment and purchasing power.
The programme aims to:
Harness the power of collaboration to reduce total costs and provide a richer learning experience for the apprentices.
Allow Microsoft Partners (particularly SMEs) to engage in ICT apprenticeships in a way that was not previously possible.
Allow all Microsoft Partners to actively recruit the apprentices as full-time employees on day one of the apprenticeship.
Provide an intensive learning period at the start of the programme to ensure apprentices are up to speed sooner than in traditional one day per week apprenticeship models.
You can more details here at the Digital 20/20 website, or the actual Microsoft site here.