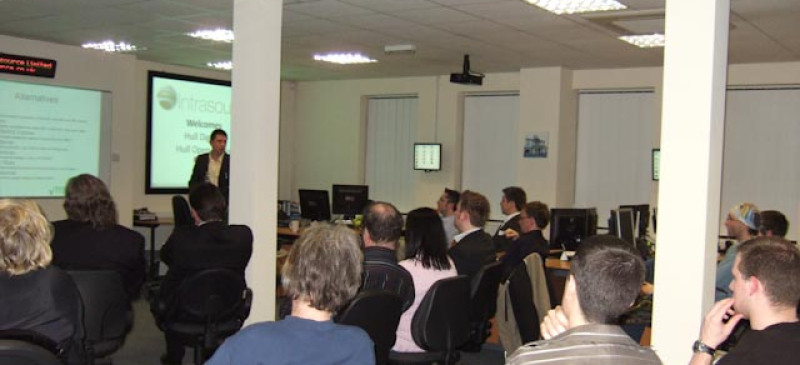 Our second MeetUp and even better than the first!
And that's not us talking, it's you! We're delighted to say that the 2nd Hull Digital MeetUp has got 5 stars from you!
" Great work Jon – a really good event. Diverse range of speakers and some lively debate! See you next time. "

" Brilliant meeting, with some great speakers, who all did great especially as it was the first with speakers. Really looking forward to the next one. Excellent work to all involved. "

" Very interesting, fun and enjoyable meetup. Looking forward to the next one already! "

" We had a very good time, the speakers where very informative and I'd like to thank them and Jon for a very good evening. Wish we'd have had a bit of time at the end of the evening but we had to get off otherwise we'd have mingled a bit. Well done Jon it was great to meet you and some of the members tonight. "

" Loved the meet, there were even Doritos. Thanks for top welcome. "
A HUGE thanks to the 30+ people who came along, and especially to the speakers, Intrasource for hosting the event and their staff who stayed behind to look after us all. Hat tip to Cairn Emmerson the group Chairman for his generosity!
How the evening progressed
The evening started off at 6.30pm but we had a steady stream of attendees turning up from 6.15pm. The drinks and doughnuts / pastries seem to be a big attraction to most people, and yes, we noted who "wasn't shy around the buffet" 😉
The Intrasource offices were soon full of the happy chatter of developers, designers, agency folk and geeks, discussing everything from php, to Linux, to Wimax, fibre and games. It was a job to keep up!
We kicked off the speakers with Paul Rhoades from Random Developments / ITSupported, who took us all through some excellent ideas concerning "Credit Crunch Computing". He has made the slides available, and I will post the url as soon as I get it / remember it! We particularly liked the discussion around using alternative operating systems, open source software such as Open Office, and also making sure you service your computer regularly. Personally the Hull Digital team have one really easy suggestion to save time and money…. get a Mac 🙂
Following Paul, Steve Jagger from Quickline took the stage and gave us a fascinating talk about the opportunity to use Wimax to beam in broadband across the Humber. This innovative approach prompted a good few questions, some rather technical, but the concept proved popular, and the method of nodes seemed an ideal way of doing it.
Last, but my no means least, Lucy Wurstlin form Channel 4's 4ip gave us a great insight into the £10 Million that has earmarked for the Yorkshire and Humber Region. 4ip is actively looking for ideas to support and fund, anything that will help / improve people's life. Lucy has set up a top community over here >>> Whippet on The Wire – so do head on over there and join up! Remember to support your ideas to 4ip here too!
Whippet on the Wire is a new creative network for companies and individuals in the creative and digital sector in Yorkshire and Humber (and friends further afield). It's a chance to share ideas, be inspired, find partners and collaborators, make new networks and find out what's going in the region.
Overall, it was a great evening, and many thanks for the very positive feedback. What we did learn was that we need more time for chilling, chatting and netorking, so this is going to play a much greater part going forward. Also, a BIG thanks to Richard Griffiths, Head of Sales and Marketing Consumer from Kcom for coming along and entering the lion's den. It's great to see Karoo getting to know us.
Please keep your eyes and ears open in the next few days as the March MeetUp is going to be announced and it's looking to be a corker! Cheers!