Free course for business on Enterprise and Innovation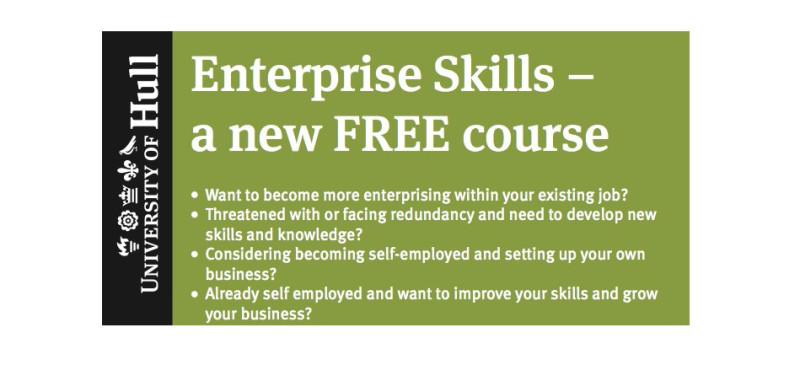 This is great news and may well be of use to some of you 🙂
The University is offering some free courses for businesses (or people looking to set up their own business) to help people develop their enterprise skills.  The next one starts on 3rd of February and there are opportunities for future dates as well.
People wanting to get more information or sign up  should contact Andrew Holmes via telephone (01482 465 429) or email (a.g.holmes@hull.ac.uk).
You can get all the info here >> click << but a few highlights are:
Your questions answered – Information for people thinking about coming on the course.
This is a unique course in the Humber region. Unlike many other enterprise courses it is not about how to start a business and write a business plan but has been designed to facilitate enterprise skills so as to make you a more enterprising, entrepreneurial, and intrapreneurial person.
Who is the course for and what does it the cover?
The course is aimed at anyone who wishes to become more enterprising in life or for work. It facilitates the development of a range of skills which are broadly categorized as being skills for enterprise as identified by the NGCE (the National Council for Graduate Employment).   This includes a wide range of broad skill areas  such as:
Initiative taking
Opportunity seeking
Commitment to see things through
Networking with other people at different levels
Moderate rather than high-risk taking the ability
Strategic thinking
Negotiation capacity
Selling and persuasion
Incremental risk-taking
Independence
Autonomy
Imagination
High belief that you are in control of your own destiny
Need for achievement
Achievement orientation
Living with uncertainty and complexity
Having work under pressure
Building know how and trust relationships
Learning by doing, copying, making things up, problem solving
Managing interdependencies
Belief that rewards come with your own effort
Belief that you can make things happen
Belief in individual and the community
Motivation to succeed
Motivation to make a difference
Ability to cope with doing something different to others
Ability to see problems as opportunities
When is the course taught?
The course runs over six afternoon sessions dates for 2010 are:
Wednesdays 3, 10, (17th or 24th) February and  3, 10th or 17th March

course code U09O2MA
Held in room LR13 in the Wilberforce building
There will be six sessions from 3rd February onwards.
Wednesdays and Tuesdays 21, 28 April, (Wednesdays) and 5, 11, 18, 25th May (Tuesdays)

course code U0O9O3MA
Held in LR9 Wilberforce building on 21 & 28 April and 5 and 11 May and then TR2 in the Brynmor Jones Library on 18 & 25 May
How do I register for the course?
You will need to complete a UFA registration form with your own details and the course title and code.
If you are unable to call I in person with completed your form then please return it by post to A Holmes, University of Hull.  FREEPOST (HU588), Hull,   HU6 7BR