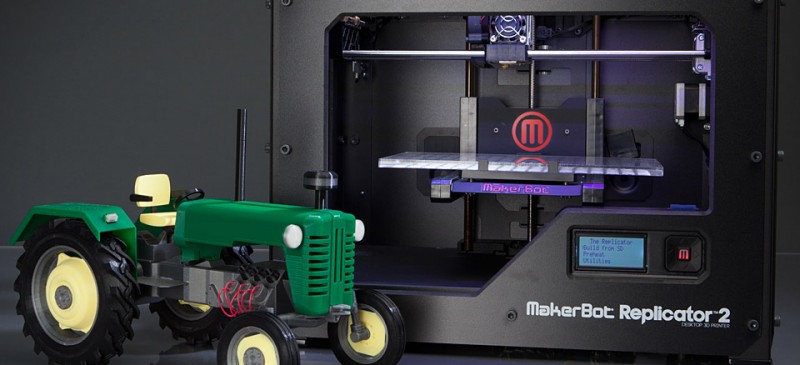 Technology makes me smile. Especially things like the Makerbot. Thinking back to my childhood, never in a million years would I think that we could have a (relatively) inexpensive machine, that could print things. Stuff. Objects. Sitting on a desk. In your own office or house. Quite amazing.
I've been loosely following the progress of the Makerbot over the past few years, mostly through the tweets and blog of my friend Brendan Dawes. To me he is Mr. 3D printing and has been tinkering away for while and has just received his latest machine, the Replicator 2.
This is what he has to say about his revolutionary journey:
I still remember the day my first Makerbot arrived at the end of 2010 – a box full of nuts and bolts and laser cut parts that I somehow had to make into a thing that makes other things. Even though I had no idea about 3D printing or building something like this I was very excited about the possibilities that were waiting for me inside that box. Now two years later, having just upgraded to a Replicator 2, that excitement has still not subsided. Here's a machine that can make digital into physical. I don't think we've really begun to truly understand how these machines could alter how we consume physical products in the future. Look at what's happened to HMV and Blockbuster, all because those old business models no longer work. Will we be downloading objects from Amazon in the future to print out in our now homes? I think so. With electronics that are printed as well? Yes. I think we'll see the continued rise of small niche hardware makers, building and selling things in their home manufacturing space.

You have to see the current range of desktop machines like the early PCs, but even with that they've come on leaps and bounds already – just compare the Thing-O-Matic to the Replicator 2. Right now I'm experimenting with the technology, in fact it may become a big part of my next solo exhibition following on from Cinema Redux. I have no idea what I'm doing and I wouldn't want it any other way.
There are people all over the world who now have these wonderful machines, and some of them have even managed to launch a business through making a specific product. Now how good is that? Have a look at the video below:
Chris Milnes had never 3D printed anything when he invented an iPhone accessory he desperately needed. While the Square credit card reader makes his life easier as a business owner, it tends to spin and twist during use. His simple design, the Square Helper, connects the Square unit to an iPhone or iPad and prevents it from twisting, saving the merchant time and hassle. With his MakerBot Replicator 2 Desktop 3D Printer, Chris has a factory on his desk for making high-resolution, durable units.
There seems to be a thriving industry starting to take shape, not only for selling these machines and the consumables they use, but also 3D printing services, where you can choose an object to be printed:
We offer 3d printing service for you, If you are an industrial designer, 3d printing enthusiastic or just want to own something unique. Then you are at the right place. We can print you objects in one of the following colours: white, black, red, green, blue, pink, orange or the ever favorite glow in the dark blue.
Thingiverse is a terrific site which shows what people are making, or rather printing. Although Makerbot is the original and most well known of these personal printers, the annual tech and gadget-fest that is CES has just seen a new entrant hit the market.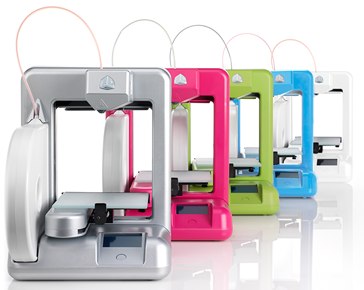 The Cube is a lot less money than the Replicator 2 and is aimed at a printing beginner. It certainly looks the part, being available in a number of colours, with wifi and being able to print objects up to 5.5″ x 5.5″ x 5.5″.
It's not alone in this new market though. The Form 1 is a Kickstarter project which is not shipping yet, but looks very promising and raised a staggering $3million.
It works differently to the Replicator.
The printer's base material is liquid, and it doesn't require any heat. The Replicator and the cube use filament of which there are three main types. Instead, the Form1 has a pan at the bottom of the machine which fills with the liquid, and the design is drawn by a laser. As the laser hits the material, it hardens and produces your finished object. Boom!
One of the best scenarios for any 3D printer would be schools. How amazing would the ICT lesson be when you could be part of a team who design and then print something? Every school in the country should have one to show the possibilities of this printing revolution to excited children.
Does anyone else have a Makerbot? I'd love to hear from you if you do, and if you had, what would you print?