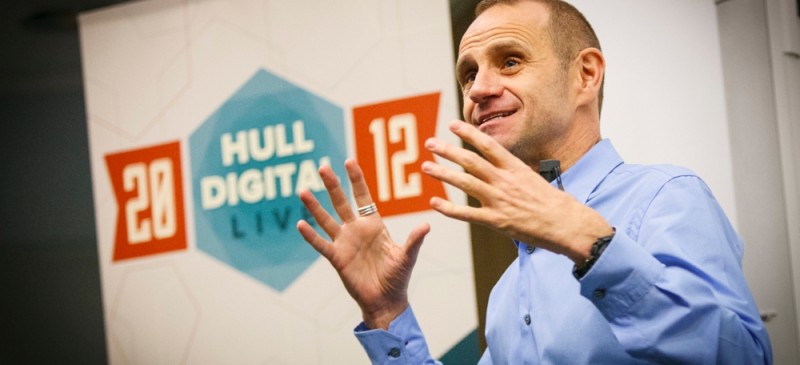 This is a guest post from John Meehan of Meehan Media. You can follow John on Twitter here.
Is Hull connected? Is it a buzzing place? Can it counter the increasing concentration of economic activity in and around London?
These were some of the questions posed by BBC Radio 4 and Dragons' Den presenter Evan Davis as he brought his analysis of the UK's economic challenges home to an audience in Hull.
Speaking at the Hull Digital (HDLive) conference, he closed in from a helicopter view of the world economy and the UK's place in an increasingly global marketplace to the prospects of Hull finding a prosperous future.
The key, he said, was "connectivity". Successful places would be those with "physical, virtual and cultural connectivity" – places where businesses and business networks link to and learn from others.
A vibrant cultural life was vital, said Davis, to "sow the seeds of economic renaissance". Cities had to make themselves attractive for entrepreneurs and employers to live in, as well as work, so that they say: "This is a buzzing place. I'll set up a business here".
Davis had words of encouragement for Hull. From what he had learned, the city had a chance. It had a "great broadband network and a growing cultural sector". It had a thriving university and a student population that adds vibrancy to life in the city.
After those fundamentals, it was about the "mindset and view of the world" of the city's business community, he said. "That's where you come in", Davis told his audience.
So, if it's about connectivity, culture and attitude, the event that brought Davis to Hull augurs well. HDLive is an extraordinary home-grown success, bringing world-class technology experts to a city said to have the fastest-growing digital community outside London.
HDLive is the epitome of connectivity. It has grown out of Hull Digital, a connected community of digital start-ups and SMEs.  HDLive saw 250 people gather to link and learn. The event was a tweetfest as, throughout the day, members of the audience took to Twitter and blogging platforms to share their views and observations with connections inside and outside the lecture theatre at the University of Hull Business School.
During breaks, the air was buzzing with excited conversations as businesses forged and reinforced mutually beneficial connections. Many of those conversations set HD Live in the context of a city determined to challenge false perceptions of its cultural life and economic prospects.
Davis talked about the UK's economy being at a crossroads. Manufacturing had been transferred abroad, as the UK focused on financial and commercial services. But, in the wake of the global crash, Britain was left with an economy that was "not broad enough to pay the bills", said Davis. It was too dependent on service industries and too "clustered" in London and the South East.
So, he was asked, what would be the impact on Hull of Siemens investing in manufacturing – a wind turbine factory – in the city? Davis said it partly depended on the degree of commitment by Siemens to local employment and skills, but it would certainly raise the city's game and build momentum "in a world of spin-off benefits". However, Davis cautioned against relying totally on inward investment. "You have to make it happen," he said.
So is Hull making it happen? It's easy to say 'no' when news of Comet going into administration brought the toll of local jobs placed under threat to almost 1,000 in just two weeks. However, the mood at HDLive was far from downbeat.
Event organiser Jon Moss, founder of Hull Digital, said the digital sector was a source of opportunity and optimism for the region. His vision was for Hull to become "a hub for digital innovation, enterprise and technology" and HDLive showed what could be achieved.
Moss pointed to plans by developer Wykeland, a HDLive sponsor, for a Centre for Digital Innovation (C4Di) near Hull's Fruit Market, which would act as a focus and catalyst for digital entrepreneurship. He also highlighted the Digital Estuary website which profiles scores of digital and technology businesses around the Humber and said telecommunications provider KC was rolling out the fastest broadband network in the country, which would act as a magnet for investment, encourage start-ups and enable existing businesses to grow.
Kevin Walsh, Chief Executive of KC, another HDLive sponsor, highlighted the digital sector, which is growing at 4% per cent annually despite the weak UK economy, as a major opportunity for the region.
He said KC's rollout of its Lightstream super-fast fibre network was providing local businesses with the UK's best broadband and it had established a £600,000 loans fund, KC Invest, to support digital start-ups. Both were stimulating enterprise and providing a platform for business growth.
Walsh read from a recent press report in which Manchester boasted about having 50 miles of super-fast fibre broadband and said this paled in comparison with Hull: "We've laid 300 miles and we're still going". He said HDLive was about inspiring ideas that became businesses and told delegates: "We're betting KC's future on your big ideas".
Of course, many of those big ideas will start as small businesses, but a theme of the conference was how the power of digital technology had transformed the rules of business. "Today, the smallest amount of capital can help to create a global brand," said Walsh.
HDLive certainly provided plenty of food for thought and prompts for action, from a series of inspiring speakers. They included the world's leading mobile digital analyst, Horace Dediu; Roan Lavery, founder of Free Agent, one of the world's most popular online accounting apps; and Simon Mottram, who has employed the power of digital platforms and communications to build a successful luxury cycling wear brand. On another grim day for Hull's economy, it was so heartening and motivating.
As Evan Davis explained so expertly, the economy is changing rapidly, in part because of the seismic impact of technology. Britain is in need of new economic models, he said. It's clear that the same applies to Hull. As traditional industries and employers, such as Seven Seas, disappear, new sources of employment have to be found.
The silver lining is that Hull is becoming ever more connected – the key requirement for economic prosperity identified by Davis – and has opportunities that are about the future rather than the past.
It is becoming better connected to its neighbouring communities across the Humber, assisted by the creation of the Humber Local Enterprise Partnership, improved cross-estuary local authority and business collaboration, and the slashing of the Humber Bridge tolls.
Hull also has a once-in-a-lifetime opportunity to replace declining industries of the past with a vital industry of the future, renewable energy, in all in its forms – offshore wind, tidal power, biomass and biofuels. Everything possible is being done locally to seal the Siemens deal, which will be the catalyst for a wave of green energy investments in the Humber.
Now the Government must provide the necessary long-term policy certainty and financial arrangements to encourage global businesses to commit to long-term investments totalling billions of pounds. Hull and the Humber are crying out for ministers to enable a new growth industry for UK Plc to emerge, flourish and create long-term jobs for thousands of local people.
Finally, as HD Live demonstrated, Hull has a vibrant and ambitious community of digital and technology businesses eager to seize opportunities for collaboration and growth, building on rapidly-developing infrastructure and connected networks. They're certainly responding to Evan Davis' challenge to make it happen.
Many thanks to Mark Kensett for the brilliant photo of Evan.