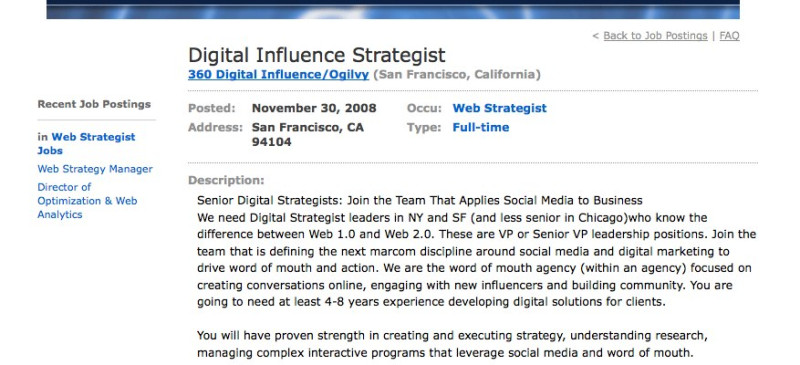 The online community is an active one, and so it makes a whole lot of sense to have someone within your company to monitor what is being said online.
I've been following Jeremiah Owyang for a long time now – he is one of the biggest fans of Community Management and the actual position of community manager. He has written extensively on this subject and around the role itself. All of his posts on this can be found here:
http://www.web-strategist.com/blog/category/community-manager/
A few of the things that stood out were:
Many, many companies recognise the importance of this role in some shape or form:
http://www.web-strategist.com/blog/2008/06/20/list-of-social-computing-strategists-and-community-managers-for-large-corporations-2008/
Here are responsibilities advertised for a community manager in Jeremiah's own company, Forrester:
Responsibilities:
* Develop strategy for the launch and growth of our customer communities
* Monitor internal and external Web sites and facilitate discussions
* Engage with the community through a series of online and offline events
* Provide real-time alerts and monthly reports to key internal stakeholders
* Coordinate, publish, and follow up on Forrester content as it serves the needs of our customers
* Identify and develop relationships with research analysts and key internal content developers
* Evangelize and train internal clients on the value of the online community, including research, client group marketing teams, and IT
* Prioritize incoming member requests and redirect to internal clients as needed
The Four Tenets of the Community Manager >> http://www.web-strategist.com/blog/2007/11/25/the-four-tenets-of-the-community-manager/

In the following, I'm not going to list out all the findings, but it was clear there were 4 number of Tenets, or beliefs that each role holds. In nearly all the job descriptions, the following beliefs were spelled out as requirements for the role.
1) A Community Advocate
As a community advocate, the community managers' primary role is to represent the customer. This includes listening, which results in monitoring, and being active in understanding what customers are saying in both the corporate community as well as external websites. Secondly, they engage customers by responding to their requests and needs or just conversations, both in private and in public.
2) Brand Evangelist
In this evangelistic role (it goes both ways) the community manager will promote events, products and upgrades to customers by using traditional marketing tactics and conversational discussions. As proven as a trusted member of the community (tenet 1) the individual has a higher degree of trust and will offer good products.
3) Savvy Communication Skills, Shapes Editorial
This tenet, which is both editorial planning and mediation serves the individual well. The community manager should first be very familiar with the tools of communication, from forums, to blogs, to podcasts, to twitter, and then understand the language and jargon that is used in the community. This individual is also responsible for mediating disputes within the community, and will lean on advocates, and embrace detractors –and sometimes removing them completely. Importantly, the role is responsible for the editorial strategy and planning within the community, and will work with many internal stakeholders to identify content, plan, publish, and follow up.

4) Gathers Community Input for Future Product and Services
Perhaps the most strategic of all tenets, community managers are responsible for gathering the requirements of the community in a responsible way and presenting it to product teams. This may involve formal product requirements methods from surveys to focus groups, to facilitating the relationships between product teams and customers. The opportunity to build better products and services through this real-time live focus group are ripe, in many cases, customer communities have been waiting for a chance to give feedback.
So, it seems like it is a hugely rewarding and worthwhile job position, but one which is probably misunderstood, and certainly not implemented very often. Are there any companies or brands which are looking at this area at the moment? Please do get in touch – we would love to do a brief interview with you.