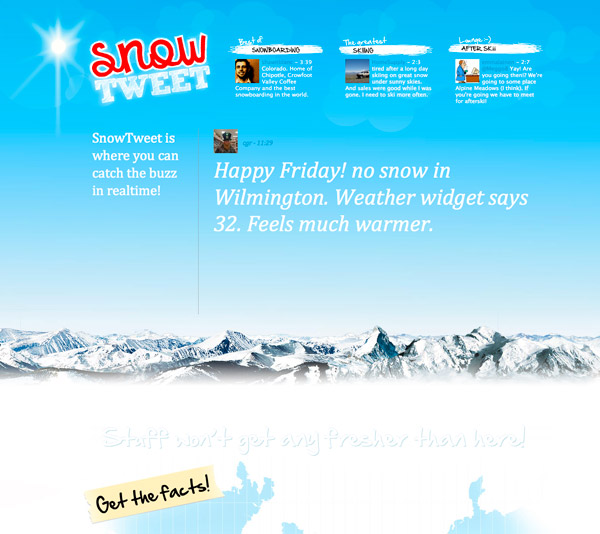 This is a personal post from Jon – founder of www.hulldigital.co.uk
I'm delighted to announce that www.snowtweet.com is now live! snowtweet was a concept I thought up a couple of months ago, and I would like to say a MASSIVE thanks to the legendary Andreas over at nofont.com for bringing it to life! His design, coding and development has been brilliant, so thanks Andreas! (You can follow him on twitter @nofont, and I'm @jonmoss).
Concept
More and more people are using twitter these days, from Presidents to celebs, to Mums and students, it certainly seems to show no signs of slowing down. It even had another slot on Radio 4 this evening! Traditional ski reports have always been ok, but not current, live or with any real detail. snowtweet uses the twitter API to monitor tweets in real time, displaying "snow" related ones in the main part of the site and also showing ski, snowboard and afterski tweets at the top.
If you then scroll down, we have implemented a world map where you can click on a resort, and see tweets about that very place! It also pulls in data from a traditional snow report site and shows the weather too.
Getting real, live info from ski resorts can be really useful – finding out when it is actually snowing, getting to know the best bars and clubs, finding out, in real time, what is going!
Future plans
We are going to be developing and building on the first version over the spring and summer leading up to the 2009/2010 season. We are very interested to hear from companies, brands and resorts who would like to get involved – please email us >> info at snowtweet.com
Here's to fresh powder and blue sky!
PS I'm very keen to promote cool projects, webapps and sites that you are all doing, so please do get in touch and we can highlight your work.